(AKA: Campervanning for Dummies / AKA: Campervan Virgins No More)
"The Outback? Like, the big orange outback with sand where people die and aren't found for donkey's years because they've wandered off into the vast oblivion stark raving mad with thirst and- hang on- NO!- that movie….the serial killer?… Wolf Creek! THAT Outback?"
IN A FEKKING CAMPERVAN????
— Mr. Two's after I tell him of my grand plan. (He thinks I've lost my ever-loving marbles.)
How are you going with cooling your jets locally? In Australia, we've had our wings clipped big time. We can't leave the country unless we apply for and receive permission (of which there is a snowball's chance in hell of receiving cough-cough) from the Department of Home Affairs. We also aren't allowed to visit other states. Are you experiencing similar restrictions where you are?
Believe it or not, there is a silver lining. I want you to stop right now and consider the sneaky little clandestine corners of the world that are within driving distance from you. They may be places that've been staring you in the face for years, or they may be places you've been thinking of getting to … one day…. Places you've probably put off because they're easy to take for granted. Can you hear yourself — 'Nope, we're going to Spain this year, we're off to New Zealand. We can see our own backyard when we retire.' Nah, NOW's the time, y'all. See that backyard and have a helluva hoot doing it. This grand globe is full of National Parks, charming small towns, food and wine trails, dude ranches — think beyond Disney and pre-packaged holidays. And support small businesses, that's never a bad thing.
Questions first time campervanners ask themselves, including, probably – YOU….
What if it's too hot/cold? Take off your sweater/put on your sweater
What if we run out of gas? It won't happen, because you will plan appropriately
Will we get sick of driving? Probably
Will I want to kill my copilot before it's over? Most likely?
What if we take a wrong turn and get lost? Adventure!
What if we get bored and hate it? Bring books, music, a camera, cards, and your curiosity. It won't kill you to surrender to the experience. (Except…. see the reference to Wolf Creek above.)
What if I can't stay in my lane and I toss that van around like a salad? You will, but you'll get better with distance. Campervanning for beginners!
Well, as a wise man once said, "You'll never get anywhere if you go around what-iffing like that." Trust that the journey will be what you need it to be, but what you want is adventure- and you shall have it.
First things first: Pre-planning and the questions to ask yourself
It seems a bit backward, but before you plan which vehicle you'll hire for your adventure, you need to plan your route. Van life (get used to calling it that) isn't so much about the 'end all be all' destination, because each days' end is a destination in itself. And that's the beauty of it – the bits along the way that unfold in your own time.
Get yourself an atlas- the kind you can highlight and write on and that works even when the gods of wifi have turned their fickle backs on you. Google up a storm, research different blogs, and open those peepers to what's all around you. Are you berzerk for the beach? Mental for the mountains? Maybe you'll create a bespoke themed tour of quirky rural juke joints? Most campervan hire dealers will have loads of itineraries on their website if you're feeling a bit nervous. Use those as they are or tweak them to work for you. There are several more ideas here for investigating the must do's.
Routing:
This one's a biggie: How much driving can you stand doing in one go? Mr. Two's would rather drive a short bit every day, but I'd rather drive longer distances every few days to settle in at one area.
Fact: On major holidays, there will be more road traffic, and the most popular places will be crowded.
How much time do you legitimately have to enjoy the journey without pushing too hard? Give yourself enough time.
Ultimately, what do you want to see? There are lots of ways to get to one place…. but think about what you want to see along the way and route it. Plan your stops, but don't hesitate to add or skip them, too. Oftentimes, the best things are the most unexpected backwater opportunities that call out to you from some faded billboard on State Route 3.
Choosing your campground:
Are there school breaks coming up? If so, bookings at holiday parks will reflect that. And kids. There will be tons of kids running amok during school breaks. See below: This is not my holiday jam.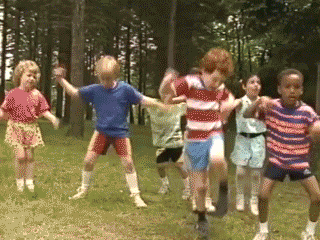 Do you need an amenities block? (camp kitchen, showers, laundry)
Will you be free camping or will you be staying at established campgrounds? I recommend a mix of accommodation, more on that later.
Do you require accessible options for wheelchairs etc?
Do you need electricity? A dump station?
Are you able to legitimately disconnect from the world or do you require wifi? Look, I get the connection shaming thing, but sometimes work HAS to be done, and wifi is a necessary evil. (also blog posting, book downloading, and Netflix streaming.) And P.S., 70% of campers go online at sometime during their camping trip, with 50% going online every day.
Are you taking the four-legged family members? Look for pet-friendly holiday parks and campgrounds. (Tip: if you're traveling outside of school holidays, and you ask nicely, you may be able to take your pet to a holiday park even if it's not listed as PF – it never hurts to ask and it worked for us.)
Do you want peace and quiet in a serene setting or something more akin to a resort with a pool and restaurant? Do you want to be close to town or farther out? If it's a place you want to settle into for a few nights, are there excursions nearby?
I hope I've gotten your wheels turning (see what I did there? Campervanning –>wheels turning? Have you planned a road trip before in a campervan? Would you consider it? What would be your perfect itinerary?